Pictograph Bulletin Info
Each booklet is 4 pages, 8 1/2" x 11" in size and is printed by Fisher Maps on waterproof paper with waterproof inks. Most sheets feature only one site, but where two fairly simple sites are nearby, they both may appear on one sheet.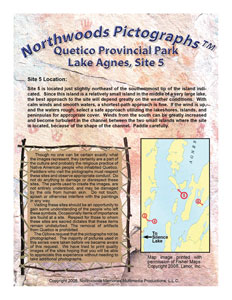 Page 1
Every booklet is based on our own personal visit to the sites, and all photographs were taken by us over the last 20 years of paddling canoe country.
A complete series of information booklets on the known pictograph and petroglyph sites in Quetico Provincial Park and the Boundary Waters Canoe Area.
Accurate directions for finding the site based on our own personal visit to the site.
Fisher map image showing exact location of the site, printed with permission of Fisher Maps.
Important note on the significance of pictographs to the Ojibwa. Respect the sites!
Picture of the site from far away to aid in paddling directly to the site.
Close-up picture aids in finding pictograph locations on the rock face.
Pictures of the individual images with color-coded locations on the panel to aid in finding every image.
Computer enhancements where images are difficult to see.
Written material about the individual images, their significance, or other interesting content.
On page 4 is an article on the Ojibwa culture, spiritual implications, or another topic related to pictographs. No two sheets contain the same article. All articles include bibliography for additional reading.
Bibliographic references for additional reading.
"Contact Us" information.
Read what others are saying about our pictograph bulletins!
Visit the sites!
Respect the sites!
Learn at the sites!
When there are several sites on one lake, a Fisher map image is included showing all sites on the lake.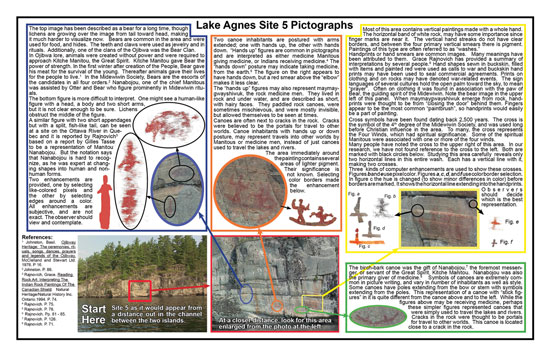 Pages 2 & 3