About Canoe Country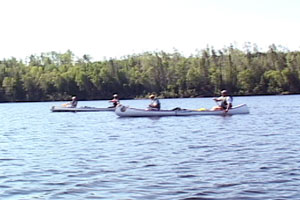 Meeting Paddlers on Knife Lake
The Boundary Waters Canoe Area Wilderness in far northeast Minnesota and Quetico Provincial Park just across the Canadian Border make up canoe country for us. Between them they account for over two million acres of incredible wilderness area like nothing else found on the continent. By wilderness we really mean wilderness. There are no roads, motor vehicles have no access, and except for a very few lakes around the perimeter, boat motors are not even allowed within the boundaries of these areas. Except at the very edges there is no cell phone access. Electricity does not exist except in the batteries that you take for your flashlight and camera. There are no power poles, streetlights, radio antennas, and airplanes are not even allowed to fly over under a specified altitude. We really mean wilderness.
Canoes and kayaks are the only means of transportation in this area. The trails between lakes, called portages, are the trails made by the Ojibway Indians of the area, and the fur trappers and traders from Europe that came along later. So when you are carrying your pack and canoe from one lake to another, you are walking in the centuries-old footsteps of Ojibway, and voyageurs.
Did we say carrying your pack and canoe? Yes we did. There are no grocery stores or convenience stores in the park. So your pack contains everything you need for the days or weeks you travel in the woods. If you don't have your own gear, there are many outfitters around the park in towns like Ely and Crane Lake and Grand Marais, Minnesota, and Atikokan, Ontario. Here you can rent excellent equipment and canoes and the outfitters will train you if you are beginners. So your home will be a campsite, with a tent, and a campfire, and lots of quiet forest around you.
Many of the portages from lake to lake follow beautiful rapids and water falls. Some of them pass around meandering creeks dropping short distances from one lake to another. At other places, impressive waterfalls like Sue Falls, and Curtain Falls, and Basswood Falls will entice you to take several extra pictures.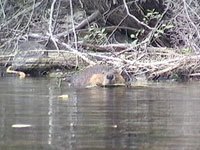 Beaver eating tree bark
No hunting is allowed in most of the area, and there are limited numbers of people allowed in each part of the wilderness. So wildlife is abundant. Moose are seen commonly, as are beavers. Encountering an occasional fox, or deer will add to your trip. Water based mammals include river otters in families, martin, mink, and fishers. Bald eagles are plentiful as are osprey, and vultures. The very large piliated woodpecker will occasionally visit your campsite along with flickers, jays and dozens of other smaller birds. And of course, you will paddle the lakes with loons, the beautiful birds that will enchant you with their calls morning, daytime and evening. They will become your companions as you travel.
For many there is certain majesty in this area. While some come for a once in a lifetime adventure, and others come to enjoy the fabulous catch-and-release fishing, there is a group of people, us included, that develop some kind of addiction to the area. We return year after year to paddle different routes through the thousands of lakes, visit the many Ojibway pictograph sites, enjoy the different lakes and waterfalls, and treasure the peaceful solitude.
If you have never visited canoe country before, we hope you will spend a few minutes on our site and get some idea of the many memories of the area we provide for folks who have paddled here. Hopefully you will become interested enough to venture into some part of canoe country and form a few special memories of your own.