About Us
Northwoods Memories Multimedia Productions L.L.C. is all about helping you preserve and enhance memories of past trips into canoe country. If you are planning future trips into Canoe Country, those trips will, at some time, also become great memories. We would like to assist you in forming those future memories as well. For those of you who have never visited Canoe Country, only dreams of that experience may exist. We hope your dreams also become wonderful memories at some point. From our first trip into canoe country in the early seventies to the present, we have accumulated endless memories. That is what this website is all about.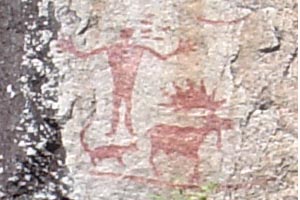 Main Pictograph Panel, North Hegman Lake
Our first and most extensive project is a complete documentation of all known pictograph sites in Quetico and BWCA and the immediately surrounding lakes We had visited most of the known sites in the past 20+ years and for the 2007, 2008 and 2009 seasons we planned trips to revisit every one of those sites and visit the few remaining sites, which we had not visited in the past.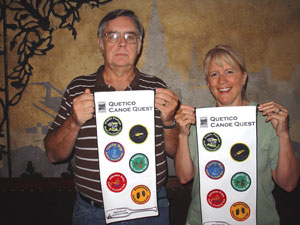 Bob Evans and Edwina Trout complete Quetico Quest
During this same three-year period, Quetico Provincial Park initiated the "Quest". This offering rewards paddlers who enter or exit each of the parks six entry points during the three-year period. This three-year period was selected to end with the 100th anniversary of the Provincial Park. We completed the Quest in July of 2008 (see photo to right) and by that time had visited or revisited 31 pictograph sites. In August of 2008 we visited or revisited another 9 sites. During the summer of 2009, we visited another 6 sites.
We did not complete all known sites by the end of the Quest in 2009. Two planned trips were shortened due to injury on the trail. Additionally, we kept hearing of more sites about which we did not know when we began the three-year project. We learned about and visited a site on Ottertrack Lake. We learned about and visited another site on the northwest end of Kawnipi Lake.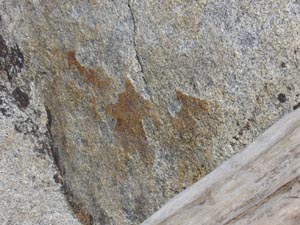 Reported images on Chatterton Lake found to be caused by erosion.
We learned about a site in Chatterton Lake. When we visited it we learned that the "images" were made by erosion and were not pictographs at all. We visited the reported site on South Hegman Lake and decided it was not authentic. We discovered another site on Kawnipi Lake just to the south of the known site on the west side of the Kawa Bay entrance. We originally did not plan to visit the Mack Lake site as it is so far out of the way for Quetico travelers. But we did visit it and the site is very unusual. We bushwhacked into the Swartman Lake and found the site very different than others we had seen. That was our first bushwhacking trip and it was successful due to the superb woodman's skills of Dean Bushey, a local guide, who accompanied us. We have reports of two other sites in the western part of Quetico where the evidence is sketchy, and the sites may or may not exist. We are researching those sites and may visit them if we gain sufficient information to find them. At the end of the summer of 2010, we thought we had visited all known sites. Then we heard from very reliable sources about a second site on Cirrus Lake, three more sites in Quetico Lake, and a new site on Pickerell Lake. We have planned trips for summer of 2011 to visit these five sites.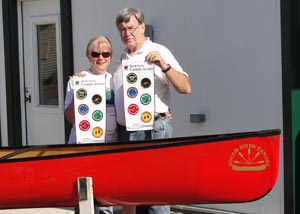 Edwina Trout and the Quetico Quest Grand Prize, a Souris River Canoe. Bob was along only to drive.
As of the end of summer 2010, we have visited and documented 53 authentic sites, two inauthentic sites, and we have trips planned to visit 6 more sites during the summer of 2011 for a total of 61 sites. We have decided to compile the records of these sites in book form. While we originally were targeting 1 July 2011 as a print date, hearing about the last 5 sites will delay that probably another year. We will announce publication date on this site as soon as it is firmed up, and signed copies will be available on this site. As an added extra,all paddlers who completed the Quetico Quest were put into a drawing for the grand prize, a Souris River Canoe. Edwina won that drawing.
We have found the spiritual and cultural bases of these images very interesting and inspiring. We have spent countless hours reading and studying to provide background information for the project. Hopefully we will be able, with this series, to help paddlers experience the sites, respect the sites and learn about the images and the people to whom they are sacred. This series of Northwoods Pictograph bulletins, already in print, will greatly assist you in quickly finding the sites, identifying the images at the sites, and hopefully learning a great deal about the people who left them. Check in with us often as this series of bulletins develops over the next canoe seasons.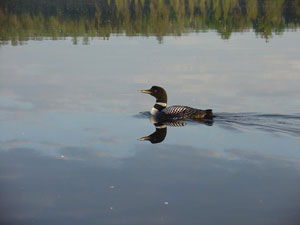 Sunday Lake Loon: Now the star of our business logo.
Like nearly every other paddler, we have fallen in love with loons. Our encounters with loons are among the best memories we have of canoe country. Over the years we have taken still pictures and video of loons from early May through the end of August and we are compiling these materials into a DVD feature "Quetico Seasons of the Loon". Some frames from this footage are included in our picture gallery . We have included in this DVD some spectacular footage of a mother loon feeding her chick, of a loon "flying" underwater, and of loon families developing through canoe season. We even included the pictures of a loon on Sunday Lake that became the star of our business logo. The biology teacher in me included several sections on the biology and ecology of the loons. Watch for this DVD to appear as soon as the editing is complete.
We are also developing many other memories of canoe country. We were in the west end of Saganagon Lake when the Bird Lake Fire started in 1995. A feature DVD of that fire is in the editing process and will include pictures of the Falls Chain when burning leaves were falling into our canoe. The devastation of that fire was of historical proportions. The following summer I made a solo trip through the Falls Chain to film the burn damage and beginnings of regrowth. And we have recently completed a visit to the John B. Ridley Library on Dawson Trail to research the fire so we could complete an accurate story of the fire and the Falls Chain in '95 and '96. Watch for that DVD in the very near future.
Other features are scheduled for the editing computer as time allows. The story of Dorothy Molter is a fascinating one. Logging was extensive in the area and when combined with interesting people involved makes a great set of memories. The engineering used in the logging industry is a whole story in itself. We hope you will find them to be interesting. Our picture gallery includes some frames from these up-coming features.
Stop in again and visit us here as we develop Memories of the Northwoods.
- Bob Evans and Edwina Trout